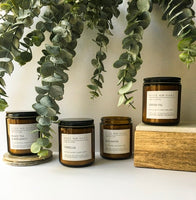 Complex scents, simple packaging, strong values
As a vegan, it was important for me to create a candle that did not contain any animal ingredients, but I also wanted to craft a product that was free of any toxins, phthalates, additives, dyes or environmentally harmful packaging. I am proud to say that HYDE NOR HARE candles are made of 100% soy wax, a raw wick made of just cotton and paper, phthalate-free fragrance oils, a glass jar and a metal lid. That's it. Pure and simple.  We also donate 5% of the profits from your order to JP Farm Animal Sanctuary so you can feel even better about your purchase.  
See what our customers have to say!